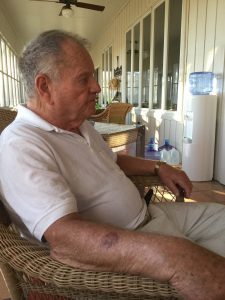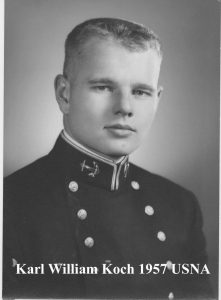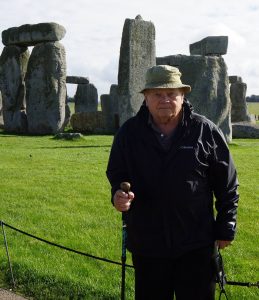 Karl William Koch, 83, currently of Fredericksburg and Corpus Christi, TX, and previously of Wapakoneta, OH, died early in the morning of March 31, 2018 in Fredericksburg. Death was preceded by an appendicitis, complications, and three successful surgeries after which he slipped quietly into a coma and passed peacefully into the arms of God.
Karl was born to Anna Louise Fisher Koch and George Henry Koch of Wapakoneta, OH on September 16, 1934. He attended school in Wapakoneta before attending Culver Military Academy, Ohio State, and the United States Navel Academy in Annapolis, MD.
He met his wife of 60 years at a formal party in Washington DC when he flirted with the woman who turned out to be his future mother in law. She liked him enough to introduce the brash young officer to her only daughter, Judy Ann Tilley. Karl and Judy were married on June 8, 1957 in the lower chapel of the Naval Academy the day after Karl graduated. Karl loved the Navy and remained in service until recalled home to take over the family business.
After successfully running the Lima Ohio Pepsi Cola plant, and upon its sale, Karl purchased a floundering Pepsi Plant in Corpus Christi Texas and founded the Oneta Company. He turned the plant around, and expanded, adding Everest Water and Coffee, and Sunrise Canteen Vending in both Corpus Christi and Victoria. To say he was successful is merely fact.
Lesser known were Karl's philanthropic activities. Karl funded scholarships, and was on the foundation board for the Hill Country Memorial Hospital. Through his business, Karl supported the Corpus Christi Food Bank, American Cancer Society, and Special Olympics. He was a mentor and friend to many people and will be sorely missed.

Karl is survived by his wife Judy Ann (Tilley) Koch; Sisters Georgeanna (Koch) Anderson and Kristina Susan (Koch) Musselman Platt; Children Karla Ann (Koch) Seeton, Kimberly May Koch, and Julia Anne (Koch) Kriegel and daughter in law Stephanie Koch Wilson; Grandchildren Ian Scott Dick, Rachel [Rae] Louise (Dick) Copeland, Karl Thomas Koch, Fisher Kenneth Koch, Chase Harrison Wilson, Judy Lea Koch, William Austin Koch, Angie Elizabeth Seeton, Ross Victor Seeton III, and Alexis Rose Seeton; and Great-grandchildren Sophie Mae Copeland and Tobias James Russell Copeland. Karl was preceded in death by his son, George Austin Koch as well as by his parents, George and Louise (Fisher) Koch.
Services will be held in Corpus Christi and Fredericksburg.
VISITATIONS: Fredericksburg: Wednesday April 4, 2018, Schaetters Funeral home, 4:00-6:00pm
Corpus Christi:  Sunday,   April 8, 2018,    Seaside Funeral home,   4:30-8:00pm
FUNERAL: Corpus Christi: Monday, April 9, 2018, Seaside Funeral home 12pm
GRAVESIDE: Corpus Christi: Monday, April 9, 2018, Seaside Memorial Park: 1pm
Special thanks to the doctors and staff at the Hill Country Memorial Hospital for their caring and support during this difficult time.
Memorials may be made to the American Cancer Society ( https://www.cancer.org/about-us/local/texas.html ), Coastal Bend Food Bank ( https://coastalbendfoodbank.org ) or Holy Ghost Lutheran Church in Fredericksburg.
FAMILY MEMORIES  (Tissue Warning)
Poem for Grandpa
by Rae Louise Copeland
I bought you a music box, but you'll never hear it sing
It doesn't hurt me knowing now you're listening to the real thing
It sang You Are My Sunshine like your mother once sang to you
Because you lit up so many lives and impacted us all too
I will miss the way you made me laugh and the way you tugged on girls hair
The way you teased us and always believed in us, the way you were always there.
All the kids will miss watering cactuses and the way you made them feel
Like they were important and fun on each trip and at each and every meal.
We will remember the way you chose your words and tried to make an impact
The way you tried to help us to excel, with or without tact,
The way you tested Justin's worth by the quality of his beer
The way you listened to our words, even the ones you couldn't hear
So back to that music box and the music that it sings
You truly have brought sunshine in, as we remember all these things.
I know you're in a better place though that doesn't much lessen the pain
Of saying goodbye, of sending our love, and saying we'll see you again
You've taught me a lot of lessons, but one stood out from them all,
Love shows itself in different ways, some obvious, and some so very small
Whether everyone thought to say it out loud then, or they kept it silent within their hearts,
We all love you, respect you, and hold memories close, may your sunshine always remind us.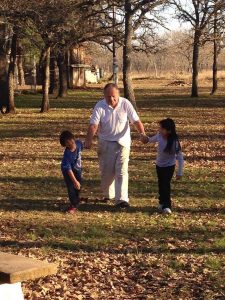 <<< Grandchildren, Angie Seeton and Judy Lea Koch, dragging Karl to the House in Fredericksburg.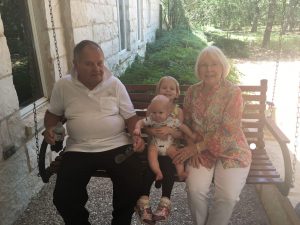 Karl and Judy with great-grandchildren Sophie and Tobias Copeland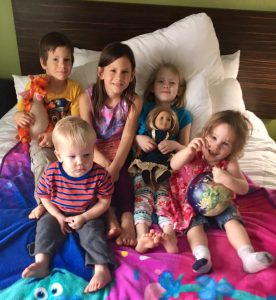 Ross, Tobias, Angie, Sophie and Alexis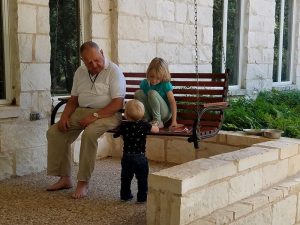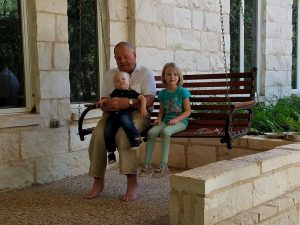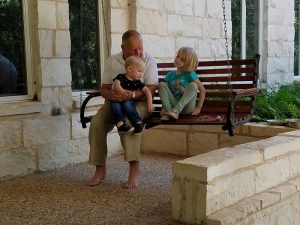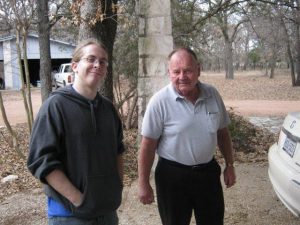 Karl with great-grandchildren Tobias and Sophie on the swing, and Karl with grandson in law Justin Copeland.
Karla Ann (Koch) Seeton remembers her father:
My favorite and earliest memories of my Dad took place when I was a child in Wapakoneta. Dad sat me on the top of a fence post at our house on Fox Ranch Rd, settled the butt of his rifle to his shoulder, and with me against his chest taught me how to line up the sites and shoot, I couldn't have been older than three.
Dad was something of a naturalist, always looking for ways to improve habitat for wildlife on our land. Dad taught us to appreciate and care for the natural world and to appreciate the work of farming and how our food comes to us. I remember planting roses along a fence line to provide a bramble for small game, and we planted thousands of trees. I learned from Dad to love the natural world and its creator.
The trees are their own story. Dad took the three of us (Karla, Kim, and George—Julia came much later) to work with him on Saturday mornings while he caught up on paperwork. He then took us to walk in the woods. Seems like we always had sacks of either tiny trees or walnuts (we gathered the walnuts from the tree in our back yard). As we walked, Dad would stick the shovel in where-ever there was sunlight and one of us would scoot forward and put the tree in, then Dad would press down to tamp the dirt firmly around the roots or nut, and off we would go to the next bit of sunlight. We planted trees in the woods, along fence lines, to act as wind-breaks, and even in rows on a piece of land bordered by RR tracks and creeks. Dad told me one time that we'd helped him plant around 3,000 trees apiece.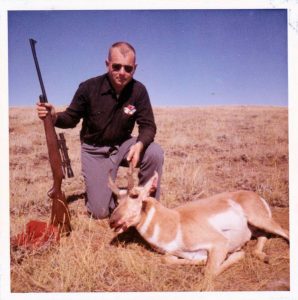 Dad, probably Wyoming, early 70's maybe?
Dad loved nature, loved to take long walks, and enjoyed putting game on the table. I recall wearing Dad's vest and being allowed to carry the birds that Dad shot and our dog Patsy retrieved. Dad said once that his evolution as a hunter was always carrying a loaded rifle for whatever was in season, followed by carrying an unloaded rifle with the bullets in the pocket of the coat, followed by carrying bullets in the coat pocket but leaving the gun at home.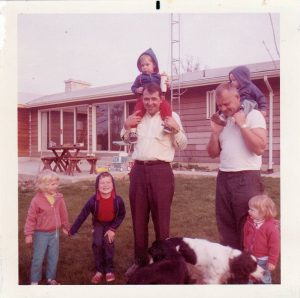 Karla, John Paff, Uncle John Paff (godparent) with Cannon Paff, then Kasper is the black dog, and Patsy is the black and white, Dad with George on his shoulders, and Kim. Probably 1969 or 1970's at the house on Fox Ranch Rd
I remember how, when we needed an arena marked off for riding lessons, my Dad would take out the mower and mow what we needed into the tall grass of the pasture. He was always doing things like that. Practical things that said "I love you."
Julia Anne Koch Kriegel on her Dad:
I remember how, on the very first Earth Day, Dad spoke to the Ohio State Legislature about the importance of recycling.
Today a lost a big piece of me. My father Karl Koch died following a short illness. He is dearly loved by many. A mentor to some, a friend to others and an enemy of Coke. He will always be my daddy.
Proverbs 27:17 As iron sharpens iron, so one person sharpens another.
Jennifer Presar Frische and Kathy Brautigam Berg share their memories with Karla:
Jenny: I have swung back and forth from giggles to tears since we talked, Karla. I have so many memories. Our Dad's talking over the fence now, watching him read the Wall Street Journal and him showing me to the stock page. Being teased by him. How much he disliked our dog….lol. You captured him perfectly in the obituary. I will miss him.
Kathy: Oh Jenny, I can see those two discussing everythign over the fence now. And remember we were never to say 'Coke' for that was a bad word.
Jenny: You are right, Kathy Berg, we could have said any swear word we knew with Karl, and he would not have been as peeved at us. We kids spent a lot of time waiting on them in those fields. Doesn't seem all that long ago.
Karla: That reminds me of the time my godfather, John Paff, taught us, when we were VERY little, to say "coke" and Dad taught my godbrothers to go around saying, "quack, quack". That was funny!  And Dad didn't like your dog, Hector, because Patsy did!!
Brett Anderson shares his memories of his Uncle Karl:
Dear Karla, Kim, and Julia,
I just wanted you all to know we're keeping you and your family in our thoughts and prayers during this tough time. Please understand that your dad meant a great deal to me – and though our relationship really developed only recently, Uncle Karl always represented strength, stability, and dutiful commitment, and I loved having him as an uncle.
I looked upon your dad with a great sense of admiration, perhaps embellished by distance and time, but no less real in my own life.  Uncle Karl was all business. And I'm guessing that steady persona brought about a few difficult conversations with his daughters over the years (as mine does with Abigail).
Know this: Just a couple of weeks ago, for nearly an hour, your dad spoke with great pride regarding each of you, your families, and what the future holds for our clan.  Like most men of his generation, perhaps he wasn't particularly skilled in communicating those feelings, and maybe his standards were beyond most of us mere mortals.  But during that special phone call he showed a genuine desire to speak from the heart. I'll always remember it, and I hope you know how deeply he cared for you, and how proud he was of you.
My sentiments are certainly out of turn, since Father Time has allowed our families to drift over the years.  Nevertheless, your dad will always represent that driven patriarch of strength, resolve – and deep down – the loving and dutiful father, husband, and brother that I strive to be.  Thanks for sharing him with me.  I only wish I'd taken him up on those hunts at the ranch that he so graciously offered over the years.
Your dad will be missed.
Love, Brett
If anyone sends me stories–or pictures, I will happily add them to this blog post.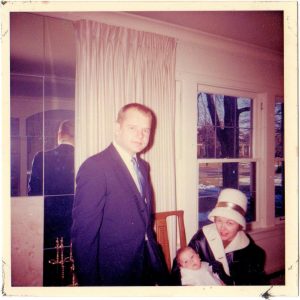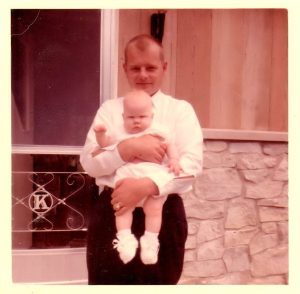 (Obituary written by Karla Ann Seeton with additions by Julia Koch Kriegel)
Thank you John Paff and Aunt Sarah for the photos from when we were kids!!
Dear Lord, please have mercy on the soul of my father, Karl William Koch, and bring him into Your presence and give him peaceful rest in Your care. +Amen.