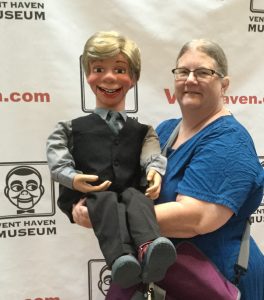 HAPPY NEW YEAR! We begin a full year of daily blog posts, and hopefully lots about puppets and ventriloquism.
Goody's creator is THE DUMMY DOCTOR, Alan Semok.
I looked at a huge number of figure makers online, starting with the amazing list of makers found on Cybervent, a website that I have found useful. I read the comments, reviews, and studied the websites of the dummy builders. Nothing really clicked with me until I ran across the comedy, DUMMY, staring Adrien Brody.
I liked the dummy in the movie, and scanned the credits to find out who made it. Along the way I found that the dummy's creator also coached Adrien Brody in doing ventriloquism, and played the instructor of ventriloquism in the classroom scene in the movie– I love that movie!
Going to Alan Semok's website I liked what I saw.  We talked by email, and he mentioned a dummy he was in the middle of building, a "less than intelligent" character, and offered to send a photo of the incomplete head. I agreed and the moment I opened the photo up and looked at it, I could hear a voice and best yet, I found it was a voice I could DO. SOLD!
And that is a short version of how I came to have the puppet I call Goody Goodfellow.
There is more, I needed to perfect the voice, to learn how to drop into his voice easily. I needed to fill out pages of information on the character, and develop some material to use as I learned to manipulate him while providing him with a voice.
Everything about this puppet delights me. His mechanics work smoothly, and are SIMPLE, there is his mouth lever and his eye lever–nothing more, and the entire sleepy look with moments where he widens his eyes is done entirely with that one finger on the single lever.
The only thing I might add is some way to cause his hand on the side away from me to gesture–I've seen inside the body levers for having the right hand move but haven't gotten far enough to dig out how that is done.
My first time being filmed on a stage taught me I need a more appropriate outfit for myself on stage and that Goody needs a red vest. I like what he is wearing but I think a red vest might make him stand out better. There we are, the photo was taken at the International Ventriloquist ConVENTion July 2017.