Last year around October I found myself signing up for five free days of lessons by Tom Crowl titled, Learn-Ventriloquism.  By the fifth day I was hooked and did something I never do–I dug out my credit card and PAID for an online course.   Lessons were incremental, each one a manageable bite, and sent out one a day. Every morning I logged into my next lesson.
Between lessons I practiced. I read everything I could get my hands on about ventriloquism and ventriloquists. I purchased every documentary I could find (I'M NO DUMMY is fun and informative). I haunted youtube for videos of ventriloquists. The insatiable need for more, more, more, drove my exploration.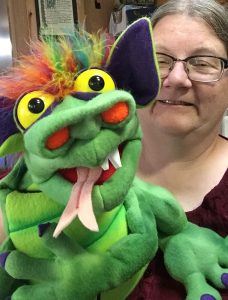 Lesson 3 was about choosing a puppet so you can be ready when you get to the lessons that require a puppet.  Not wanting to spend the big bucks yet (I was only just starting) I went on Etsy and found a darling puppet of professional quality for practicing my coursework at BobsImagination. The puppet was cute and a sensible amount (under $200 rather than over $2000).
January of this year I signed up to attend the Vent Haven International Ventriloquist ConVENTion in July. By July I had added a traditional ventriloquist figure. I'll share how I came to buy my professional figure in another post.
I worked hard on the Learn-Ventriloquism course, made some vent friends in the forums, picked up more online classes to keep developing my puppet's characters and my skills. I planned and planned, added a side trip to visit my old home town, and had a blast visiting several of my oldest friends in the world. It was good to meet up with old friends! But this is about puppets and me.
Sometime before July I joined the International Ventriloquist Society. Breathing and voice exercises became daily habits.
The Vent Haven ConVENTion was eye opening! I have never had so much fun anywhere, anytime, EVER. I got up on stage for the first time and that was an incredible high. I want to do that again. I have never been so charged up by anything in my life.
My first stage performance wasn't great. I made all sorts of mistakes with manipulating my puppet. I didn't have much material but what I did have got some laughs. I love, Love, LOVE making people laugh. Major high. A joke went wrong, I forgot a line, and I'm going to do it again next year!
I went and watched my video again, and honestly, I don't think I can share it; I'm too embarrassed by my mistakes! Perhaps next summer.
The rest of this year I have continued to work on my ventriloquism, added more classes, new voices, better skills, some equipment, and signed up to attend the ConVENTion in 2018.
Dear Lord, thank You for friends old and new, for puppets and ventriloquism, and classes in the art. Thank you for the marvelous ventriloquists I have met, and those who I only know from videos of their work. Thank you for my puppets, time to practice, and the opportunity to make someone laugh. +Amen.