Twelve science fiction stories featuring great adventure with a twist of faith.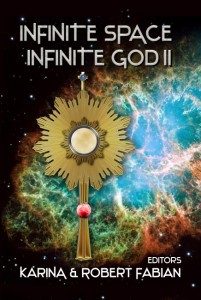 Summary: Twelve science fiction stories featuring great adventure with a twist of faith. Infinite Space, Infinite God II spans the gamut of science fiction, from near-future dystopias to time travel to space opera, puzzles of logic to laugh-out-loud humor and against-the-clock suspense. A great read for any science fiction fan; a must-read for those seeking something new in their fiction.
If you enjoy science fiction that recognizes faith, especially the Catholic faith, as an integral part of human society, you'll love ISIG II. However, Karina has another surprise coming in September: Discovery, the first Rescue Sisters novel, starring the three sisters of the Order of Our Lady of the Rescue as they travel to the edge of the solar system to explore an alien spacecraft.
To get all the news, plus chances to win prized, writing tips and great articles and stories from all her worlds, join her newsletter, FabianSpace. http://eepurl.com/dc-8M
Website: http://fabianspace.com
Excerpt: In the glasses, Rita saw the screen before them—the ship, the ginger-root-shaped asteroid two hours away, the star field beyond that. Jupiter, she knew, was somewhere behind and below. Overlaid on the scene was a targeting reticule of double circle and cross-hairs, and to the lower right, a legend. She had enough time to notice the asteroid was called Guangzhou and had a small, automated mining station before she heard Ann call "Heads-up" to activate her own display. Ann muttered a couple of commands, and the tracking reticule began to move, widen and narrow to the movement of her eyes.
Annie spoke. "Interface systems green. I have control of the tow line. Ready when you are, Tommie."
"Roger. Moving in slow and oblique. Lady of Loreto, pray for us."
Bio: Winner of the 2010 INDIE for best Fantasy (Magic, Mensa and Mayhem), Karina Fabian has imagination that takes quirky twists that keep her–and her fans–amused. Nuns working in space, a down-and-out Faerie dragon working off a geas from St. George, zombie exterminators—there's always a surprise in Fabian's worlds. Mrs. Fabian teaches writing and book marketing seminars, but mostly is concerned with supporting her husband, Rob Fabian, as he makes the exciting leap from military officer to civilian executive, getting her kids through high school and college, and surviving daily circuit torture…er, circuit training. Read about her adventures at http://fabianspace.com.
Buy Link: https://www.amazon.com/Infinite-Space-God-II/dp/1606192310
Tweet: Infinite Space, Infinite God II expands the role of faith thru the endless possibilities of the sci-fi genre https://www.amazon.com/Infinite-Space-God-II/dp/1606192310
Dear Lord, thank You for the Catholic Writer's Guild and inspire the writers into great productivity and bless their efforts, and meet their financial needs through their writing. +Amen.