Post 2 on my struggles in housekeeping.  Today, I continue with step one in THE LIFE-CHANGING MAGIC OF TIDYING UP by Marie Kondo. My office is currently in our RV, which is also under renovation.  The good side of using the RV as my office is it gives me ample time to figure out what I want changed in here, and what things belong in here and which do not.
Right now my desk looks like this: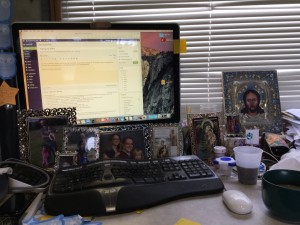 It is a bit cluttered. I like having the family photos on my desk. I feel good having them there. The only family member missing is my eldest who keeps ducking my request for a photo.  The icons are also very special to me.
Now, I hope to eventually have an AFTER for not only my desk, but for the entire office: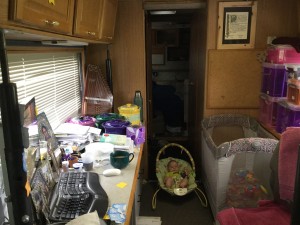 The baby seat moves around a lot, but I had to put her somewhere while I took the pictures and that spot was easy.  Clearly, this is a cluttered working space. There are things here I love, and things here because I need them, but there are also things that I suspect do not belong in my office at all.
I certainly hope this book I am reading helps me to get rid of what is correct to remove, but keep what is correct to keep. I have this huge anxiety that I will somehow toss something essential and end up in a pickle because something I need is not there.
Like the pile of papers– what if I get rid of the wrong thing? How can I be sure I am finished with it? What to do with the papers I need to hold onto? What if I am wrong? What if later I discover that something that in the moment I decide is unneeded is actually important to keep?
I am a basket-case in many ways.
Now I would like to get rid of the old cork board. But I actually don't know if it is covering a hole in the wall or not. It is a used RV and didn't come with much history– only that it was a mobile office for a police force in a nearby city and somehow nobody but my husband bid on it(probably because it had five desks, a non-working refrigerator, and no real kitchen).  We have torn out some things, and there is a space for a two drawer refrigerator, and another space which will eventually have a two drawer freezer and some counter space. This will give a tiny but useful kitchen. The sort that would be perfect for my coffee pot!
So I sit and visualize how I want to live in this space. It is useful as preparation for the next step.
Dear Lord, please help me to get rid of all the right things, and to give away or sell anything that needs to go. Please help me over-come the anxiety connected to this effort. +Amen.