I am now thinking about the effects of beauty on my workspace. At this moment, my workspace is a mess. I have a number of things I love on this desk. However, it is difficult to enjoy them fully when the space is so cluttered. I "see" my office without the paper clutter. I see my office with shelves. I see the cupboards with bins in them that make pulling out what I need easier. As it stands now I have to struggle to get to what I need. If there were bins, then I could pull whatever bins I needed to get to what I need– of course that requires a clear categorization of the contents of each of the bins.
I think if I took the first aid cabinet and added two small bins to sit on the large one–then put the less often and extra first aid items in the larger bin, and set two small bins on top, one with oral medications (head-ache, stomach, etc) and the other one for cuts(bandaids and ointments or sprays for the skin) that would make that cabinet useful and easy–and remove the first aid stuff from my desk drawers!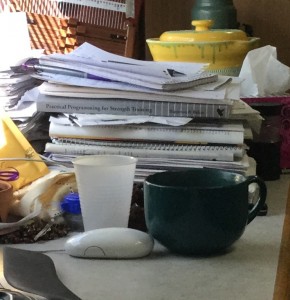 I have need of some means of handling books that I must have at hand.  I have need of some means of handling the papers! I have sheet music, and printouts of articles for my research, and notebooks– all need to be close at hand, easily accessed, and NOT in a pile on my desk!
I honestly do not know how to do this.
I can honestly say that the icon, pencil holder, pictures, autoharp, colorful pots, each brings me joy. I can say that there are quite a few things on my desk that do not bring me joy at all.  I need the articles and sheet music, but I need them where I can get to them, where I can find them, and right now, well, it is not working efficiently and this clutter negatively effects my writing.
Dear Lord, please help me learn how to handle all my materials so that I can find them. Please help me keep my desk-top free of clutter and wonderful to use. +Amen.