A friend recommended the book THE LIFE CHANGING MAGIC OF TIDYING UP by Marie Kondo. It only took a few clicks of the mouse for me to locate and purchase a used copy off Amazon. So here I am, as always, looking at the disaster that is my home, wanting it to be much neater and easier to keep nice, and as usual, I have NO idea how to begin. Or perhaps it is more the whole idea is terrifying to me.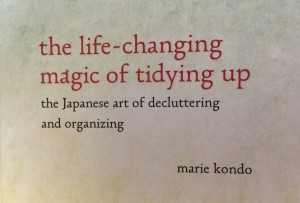 I have no clue why it is terrifying, but it is.  My first exercise, according to the book THE LIFE CHANGING MAGIC OF TIDYING UP, is to visualize my living space and life in that space. I have been doing that and plan to blog on various spaces as I visualize them.  I cannot see how this will make me able to keep my home tidy, but I am willing to do the work in the hope that a permanent change is possible.
My vocation includes making our house into a home, and I have never been very good at it. I WANT to be good at it. I believe my time writing will be freer if our environment is less cluttered. I believe everyone will benefit if our home functions better. I believe change is possible because God tells us that nothing is impossible with Christ. I also believe that God wills for me to keep our home well.
I intend to follow this author's advice.  She says that it should be a six month process and that one should sort by category not by location. So while visualizing is about spaces, the step that follows is by category.  I think I can do that.
What concerns me the most is the problem of getting other members of the family on board with this project. I hope she deals with this issue somewhere in the pages of her book.
Dear Lord, please help me to make our home look the way I visualize it. Please help me to wisely declutter, keeping only those things that have a true use and are beautiful to me. Please help me to save and spend wisely. +Amen.