I'm writing this early so it may or may not post after Jan 1, haven't actually looked yet and don't plan to before scheduling this post. I'm recognizing that blogs may be old tech but I need to start where I am. I enjoy watching video blogs and want to do some of my own, probably with puppet assist!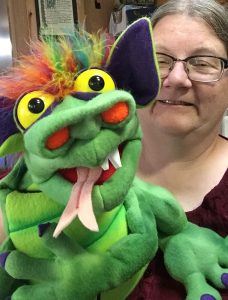 Daily blog posts replace morning pages (Julia Cameron in ARTISTS' WAY) for me in 2018. I did morning pages for years and didn't get anywhere with it. Oh, it was good for the mental health and general creativity, but didn't result in increased writing. That doesn't mean that I won't discover myself doing morning pages and then blogging–it could happen.
In 2018: blog every single morning. I wish to establish a morning routine that includes writing, voice practice, ventriloquism, puppetry, and general self care. I find it very important to make this effort. People are welcome to join my journey, but I really don't expect anyone to find what I do here riveting but I do hope to get to where it is amusing. I need to blog a lot on the puppets and ventriloquism in 2018. I found my calling last summer when I got on stage with my puppet and I need to do a LOT more of that.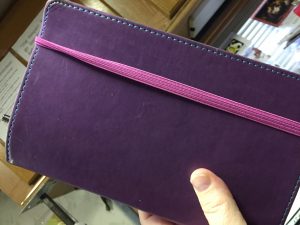 Ventriloquial Skill development is moving along, multiple voices are settling into place, and the personalities are growing their own pages of notes. Notes, I take the puppet notes in the purple notebook that goes with me everywhere. Nothing beats having a small, pretty, tactilely pleasing notebook with a pen, dedicated to a particular topic that is important. My book bag is an ever changing mess of things I carry with me. Always it contains the planner, the purple notebook, the blue prayer notebook, and whatever magazine or book is current reading. Occasionally the iPad will travel in there too. Useful devices iPads, cell phones, notebooks, pens, planners, and cameras–but my camera doesn't fit the book bag.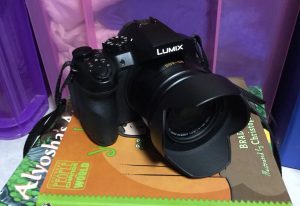 I have some equipment for sound and video. Something I have wanted to do for some time is move to making videos to put on my blog. Hoping to create a place to make those videos happen. I have a camera with a nice mic, and I have not yet taken it outside to try and find something, anything, to video. Photos on here are mostly my own, some taken with my phone, some with my iPad and some with my camera. Each one works well, each one gives me what I need, and each one allows for redundancy so I am never left without the ability to get a picture.
Sat down yesterday to work on my areas to develop in 2018 in my Erin Conderin planner. I like EC planners. I use the one with daily columns with the time of day down the edge.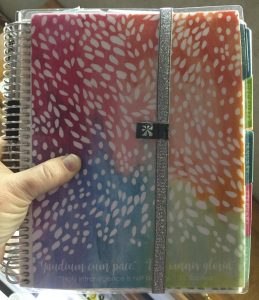 That visual helps me to see where I need to be, when, and how much time I actually have between things so I can better use my time. It also helps me keep in mind what I really want to be doing, with the home, family, writing, ventriloquism, etc. 12 boxes, 6 on self development in areas important to me, and 6 areas for family, friends, and others in general. I try to create a balance to the planning. I started my 2018 planner last July with an 18 month, and took out some of the 2017 months and added them to the 2017 planner to keep the year together in one place.
And I suspect this blog post is more like a slew of topics with no depth. Blogging is a skill just as writing fiction is a skill ( another essay topic).
In 2018 I wil blog every day and continue to prepare my ventriloquial skills for going public with them. Should be an interesting year!
Dear Lord, please bless us all in the coming year. +Amen.