Lists, I have used lists, on old envelopes, scratch paper, post-it notes, calendar printouts, and many variations, and while all have the virtue of being useful, not one was consistent enough and all were too easily lost.  ENTER my new planner, which is proving to be a top flight choice for me. BUT….. you just knew that was coming didn't you?
I can fill the monthly spread with everything I am thinking about attending so I know when and where things will be happening. This feature is working exactly as it ought to work, and I love it.
I can move what I decide I AM going to attend to the weekly spread, and include Tasks related to it in the space supplied. The times let me write things in where they belong and I can see both the flow of the week and the individual days on one spread. This to is working exactly as it ought to work, and I love it too.
What am I missing? Well, MORE space. Somewhere to expand my to-do lists.
So, whats with the lists?  I have a plain notebook I carry for taking notes, but that is TWO notebooks. Not very efficient, although it has worked–just not ideal– and then a friend suggested I look into Bullet Journalling. That will have to be still another post.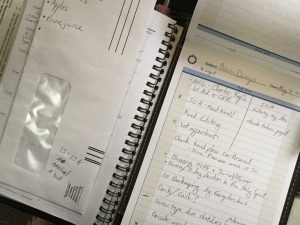 Meanwhile, I discovered the notepad at the back of my planner is good for notes. I'm starting to rely on it. I have three pages going currently, a Master list, where I brainstorm everything that needs done, a AHG page where I detail out items off the master list that are AHG related, and a Financial page which is helping me to keep a visual handle on our budget.  This aspect of the Franklin Covey, with its Subject and Date lines at the top, is shaping up to give me the longer lists I need–and it is already in my planner!
Dear Lord, thank You for planners. Please help us to keep our eyes and hearts on You as we use them. +Amen.